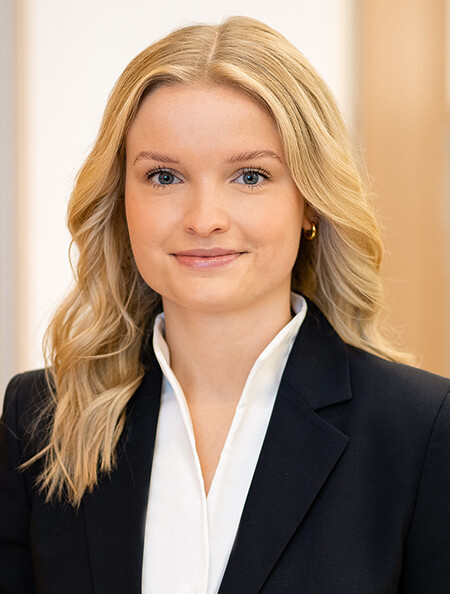 Dr Sarah-Sophie Jacob
Associate Hamburg
SARAH IS AN ASSOCIATE IN THE CORPORATE AND M&A GROUP.
Sarah specialises in M&A, corporate restructurings and corporate finance, with a particular focus on the energy and infrastructure sectors.
Show related areas
Education
2022 · Admission to the Hamburg Bar
2022 · Second state examination, Hamburg
2022 · Doctorate degree at the University of Kiel
2019 · First state examination, Schleswig
memberships and associations
Hanseatische Rechtsanwaltskammer Hamburg
DR. SARAH-SOPHIE JACOB IST ASSOCIATE IN DER CORPORATE AND M&A GROUP.
Sie ist spezialisiert auf M&A-Transaktionen, Unternehmensumstrukturierungen und Unternehmensfinanzierung mit besonderem Schwerpunkt in den Bereichen Energie und Infrastruktur.
Show related areas
AUSBILDUNG
2022 · Zulassung zur Rechtsanwältin
2022 · Zweites Juristisches Staatsexamen, Hamburg
2022 · Promotion (Dr. jur.) an der Christian-Albrechts-Universität zu Kiel
2019 · Erstes Juristisches Staatsexamen, Schleswig
MITGLIEDSCHAFTEN UND VEREINE
Hanseatische Rechtsanwaltskammer Hamburg