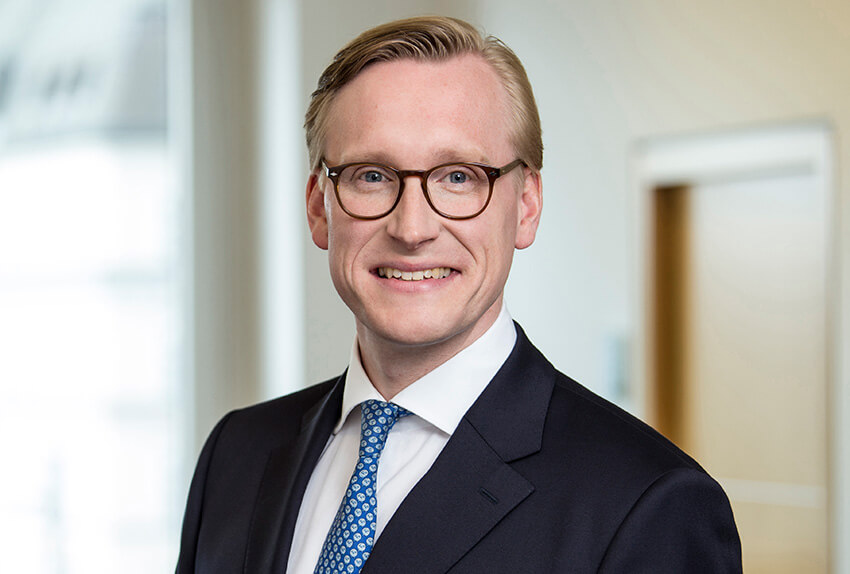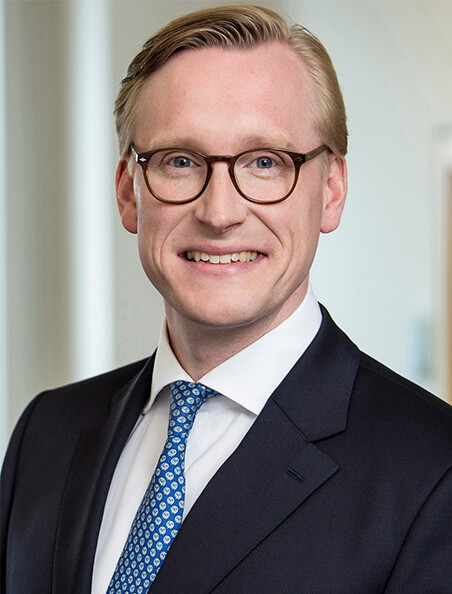 Dr Christian Finnern LL.M.
Partner Hamburg
CHRISTIAN IS HEAD OF GERMANY AND HEADING THE TRANSPORT SECTOR IN GERMANY
Christian acts for owners, managers and charterers of all types of vessels. He also acts for investors and a broad range of other market participants in the maritime industry.
He advises in relation to shipbuilding, the sale and purchase of second-hand tonnage, all flag and registration matters as well as on the employment, operation and management of ships. Another strong focus of his practice is in investments, joint ventures and M&A transactions in the maritime sector.
He also represents parties in insolvency and enforcement proceedings, including advice to insolvency administrators on shipping-related issues, as well as on contentious matters.
Furthermore, Christian has broad experience in advising international and domestic clients on all aspects of ship finance. This includes advice in respect of leasing transactions, complex syndicated financing structures, high profile restructurings as well as warehouse and platform solutions.
Christian's advice to ship owners and other shipping companies is noted in the legal directories JUVE Handbuch and Chambers Europe. In Chambers Europe, he is recognised as "very active and visible in the market" and is praised to be "a strong practitioner who has a good character and is very supportive".
He has been recognised by legal directory Legal 500 EMEA for his "strong industry knowledge, pragmatic approach and good results" and his "goal-oriented" leadership of the Maritime Service practice group, which focuses on investments, joint ventures and M&A transactions. Furthermore, it says that Christian has "a distinct sense for transaction dynamics as well as excellent shipping know-how and is very well connected".
Christian is also recognised by Legal 500 Germany and Legal 500 EMEA as a leading name in Maritime Law and is praised for his "rapid analysis", for being "always and immediately available" as well as for being "very helpful and responsive, flexible and unbureaucratic".
Christian is a member of our global Supervisory Board.
Show related areas
Advising TUI Cruises GmbH on the €1.2bn acquisition of Hapag-Lloyd Cruises from TUI AG, creating a combined fleet of twelve cruise vessels.
Advising ZEABORN Group in relation to various M&A transactions, e.g. acquisitions of E.R. Schiffahrt and Harper Petersen, of Rickmers Shipmanagement and various subsidiaries and of the entire business of Rickmers Line and joint ventures in this segment of their business.
Advising MPC Container Ships ASA on the acquisition of a ten container vessel fleet from Cido Shipping of South Korea for USD 130m as well as frequent advice on their fleet expansion and various other strategically important matters, for example their acquisition of exhaust gas cleaning systems, also known as scrubbers, to be retrofitted on selected vessels of their fleet to comply with IMO 2020 rules.
Advising Isle of Man based owners on sale of eleven 13,000 TEU vessels including all contractual agreements, de-registration, charter arrangements, closing and payment procedures with volume of USD 1bn.
Advising a range of German owners on their orders of container vessels and bulk carriers at Chinese and Korean ship-yards as well as advising a German yard on various newbuilding projects (this includes advising MPC Capital Group on their order of six 5,500 TEU container vessels).
Education
2007 · LL.M.
2006 · Second State Exam
2005 · Dr. iur.
2003 · First State Exam
memberships & associations
International Foundation for the Law of the Sea (Board of Directors)
German Society of the International Law of the Sea
German – South African Lawyers Association
Nautical Society of Hamburg
Chinese European Legal Association
German Maritime Arbitration Association
DR. CHRISTIAN FINNERN IST HEAD OF GERMANY UND LEITET DEN TRANSPORT SEKTOR
Zu seinen Mandanten zählen Eigner, Bereederer und Charterer von Schiffen jeder Art. Er berät zudem Investoren und eine Vielzahl von anderen Marktteilnehmern in der Maritimen Industrie.
Dr. Christian Finnern berät seine Mandanten in den Bereichen Schiffbau, Kauf und Verkauf von Secondhand-Tonnage, in allen Fragen rund um Flaggen und Registrierung sowie zur Beschäftigung, dem Betrieb und der Verwaltung von Schiffen. Darüber hinaus liegt ein wesentlicher Schwerpunkt seiner Tätigkeit auf Investitionen, Joint Ventures und M&A-Transaktionen in der maritimen Wirtschaft.
Zudem vertritt er Parteien in Insolvenz- und Zwangsvollstreckungsverfahren, einschließlich der Beratung von Insolvenzverwaltern in Schifffahrtsangelegenheiten und in Streitfällen.
Außerdem verfügt Dr. Christian Finnern über umfangreiche Erfahrung bei der Beratung von in- und ausländischen Mandanten in allen Aspekten der Schiffsfinanzierung. Dazu gehört die Beratung bei Leasingtransaktionen, komplexen syndizierten Finanzierungsstrukturen, anspruchsvollen Restrukturierungen sowie sogenannten "Warehouse-" und "Plattform-" Lösungen.
Im JUVE-Handbuch und in Chambers Europe wird Dr. Christian Finnern aufgrund seiner Beratung von Schifffahrtsunternehmen und Reedereien genannt. In Chambers Europe wird er als "sehr aktiv und bekannt auf dem Markt" bezeichnet und als "ein kompetenter, charakterstarker und sehr hilfsbereiter Anwalt" gelobt.
Legal 500 EMEA hebt seine "ausgeprägten Branchenkenntnisse, seinen pragmatischen Rechtsberatungsansatz und stets gute Ergebnisse" hervor und betont seine "zielorientierte" Leitung der Praxisgruppe Maritime Service, die einen besonderen Schwerpunkt auf Investitionen, Joint Ventures und M&A-Transaktionen legt. Weiter heißt es, "Christian Finnern hat ein ausgeprägtes Gespür für Transaktionsdynamik sowie ausgezeichnetes Shipping-Know-how und ist sehr gut vernetzt."
Dr. Christian Finnern wird von Legal500 Deutschland und Legal 500 EMEA als führender Name für Maritimes Wirtschaftsrecht aufgeführt und für seine "schnelle Analyse" gelobt, zudem als "immer sofort verfügbar", "sehr hilfsbereit und schnell" sowie "flexibel und unbürokratisch" beschrieben.
Dr. Christian Finnern ist Mitglied unseres globalen Supervisory Boards.
Show related areas
Beratung der TUI Cruises GmbH beim Erwerb der Hapag-Lloyd Cruises von der TUI AG mit einem Transaktionswert in Höhe von 1,2 Mrd. €, wodurch eine kombinierte Flotte von zwölf Kreuzfahrtschiffen entstand.
Beratung der ZEABORN-Gruppe in Bezug auf verschiedene M&A-Transaktionen, z.B. Akquisitionen von E.R. Schiffahrt und Harper Petersen, von Rickmers Shipmanagement und verschiedenen Tochtergesellschaften sowie des gesamten Geschäfts der Rickmers Line und Joint Ventures in diesem Geschäftsfeld.
Beratung der MPC Container Ships ASA beim Ankauf einer Flotte von 10 Containerschiffen von Cido Shipping aus Südkorea für USD 130 Mio., regelmäßige Beratung bei der Flottenerweiterung und in diversen anderen, strategisch bedeutsamen Angelegenheiten, wie beispielsweise bei der Anschaffung von Abgasreinigungssystemen, auch bekannt als Scrubber, die auf ausgewählten Schiffen der Flotte nachgerüstet wurde, um die IMO 2020-Regeln zu erfüllen.
Beratung von Eigentümern der Isle of Man beim Verkauf von elf 13.000 TEU-Schiffen einschließlich aller vertraglichen Vereinbarungen, Registerangelegenheiten, Chartervereinbarungen, Closing- und Zahlungsabläufen mit einem Volumen von USD 1 Mrd.
Beratung von verschiedenen deutschen Reedereien im Hinblick auf die Bestellung von Container- und Massengutschiffen bei chinesischen und koreanischen Werften sowie Beratung einer deutschen Werft bei unterschiedlichen Schiffbauprojekten (unter anderem Beratung der MPC Capital-Gruppe bei ihrer Bestellung von sechs 5.500 TEU Containerschiffen).
Ausbildung
2007 Zulassung als Rechtsanwalt
2006 2. Staatsexamen
2005 Doktor der Rechtswissenschaft
2003 1. Staatsexamen
Mitgliedschaften und Vereine
Internationale Stiftung für Seerecht (Vorstandsmitglied)
Deutscher Verein für internationales Seerecht
Deutsch – Südafrikanische Juristenvereinigung
Nautischer Verein zu Hamburg
Chinese European Legal Association
German Maritime Arbitration Association