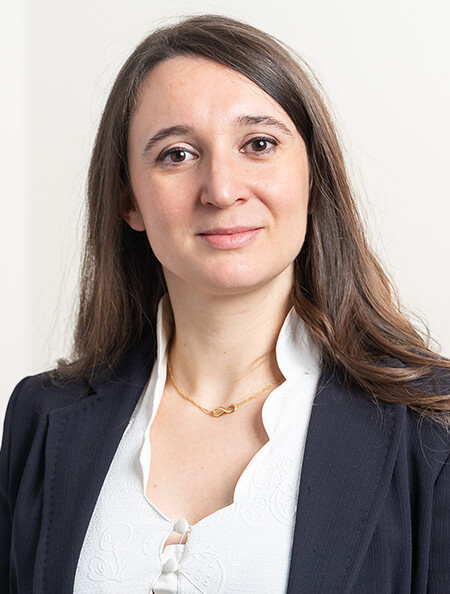 Alessia Giaccari
Counsel Milan
Alessia Giaccari is Counsel in the Real Estate department
Alessia Giaccari has a consolidated experience in the field of real estate transactions (both in the form of asset deals and share deals). She assists both Italian and foreign institutional clients in real estate investments and developments in Italy and boasts significant experience in contracts specialised in real estate asset management (asset, property and facility management contracts, construction and redevelopment contracts and lease agreements). Alessia also assists the clients in any dispute resolution involving real estate assets and their management.
Alessia speaks Italian, English, French and Spanish.
Show related areas
Education
2011 · Master's Degree in Law (JD) University of Napoli Federico II
2015 · PhD in "Diritto romano e Tradizione romanistica: Fondamenti del diritto europeo" University of Napoli Federico II
memberships and associations
Bar of Naples
Vice – President of the Real Estate Commission of Aija – International Association of Young Lawyers
Member of Arel – Association Real Estate Ladies
Alessia Giaccari è un Counsel del dipartimento di Real Estate
Alessia Giaccari vanta una consolidata esperienza in materia di operazioni immobiliari, con particolare riferimento alle acquisizioni (sia in asset deal che in share deal). Assiste e segue clienti istituzionali sia italiani che stranieri in investimenti e sviluppi immobiliari in Italia e vanta anche una rilevante esperienza nella contrattualistica specializzata nella gestione immobiliare (contratti di asset, property e facility management, contratti di appalto di opere e servizi, e contratti di locazione e affitto d'azienda). Alessia assiste i clienti anche nelle controversie giudiziali e stragudiziali che riguardano i portafogli immobiliari e la loro gestione.
Oltre all'italiano, Alessia parla inglese, francese e spagnolo.
Show related areas
formazione
2011 · Laurea Magistrale in Giurisprudenza
2015 · Dottorato di Ricerca in Diritto romano e Tradizione romanistica: Fondamenti del diritto europeo, Università degli Studi di Napoli Federico II
ASSOCIAZIONI PROFESSIONALI
Albo degli Avvocati di Napoli
Vice – Presidente della commissione Real Estate Commission dell'Aija – International Association of Young Lawyers
Membro di Arel – Associazione Real Estate Ladies