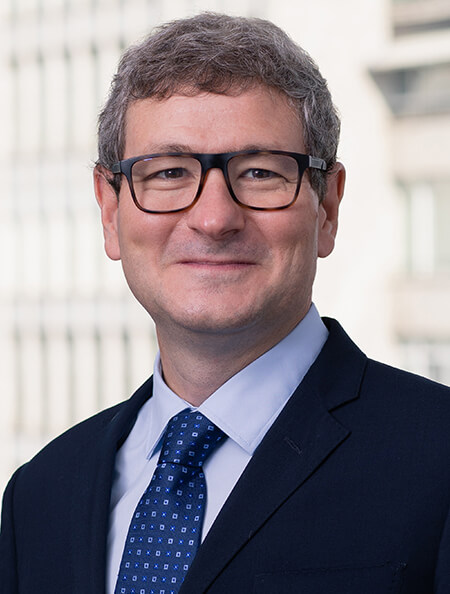 Alfredo Cabellos
Partner Madrid
Alfredo is a Partner in the Asset Finance Group.
He is a transport sector specialist, with extensive expertise in ship, aviation and rail finance. He advises both domestic and international financial institutions, lessors, shipowners and airlines on a wide variety of matters including tax-driven structured transactions (Spanish tax leases and operating leases) and export finance. He also advises several aircraft and helicopter lessors in a variety of structures involving Spanish lessees.
Alfredo is also experienced in advising on the financing of port terminals, ship arrest, regulatory matters, aircraft repossession and arbitrations relating to ship building contract disputes.
He is recommended as a leading transport finance lawyer by legal directories Chambers Europe and Legal 500 EMEA. In 2019, Chambers described Alfredo as an "exceptional maritime lawyer" who has a "very thorough knowledge of the sector and is able to explain complicated concepts".
Show related areas
Advising Havila Kystruten on their Spanish tax lease structure and the dispute against a Spanish yard on a shipbuilding contract cancellation.
Advising a US lessor on their potential acquisition of cargo aircraft to be operated by a Spanish airline.
Advising a syndicate of Spanish and foreign banks on the ECA backed financing to a port terminal in Brazil.
Advising a Spanish bank in two ECA backed sovereign loans in Africa.
Advising a Spanish fund in an innovative equity structure in relation to two new Airbus aircraft for a European flag carrier.
Education
1999 · DESS Droit du Commerce International –  Paris X Université
1997 – 1999 · Master in EU Law – Universidad Carlos III
1996 · Law Degree – Universidad Complutense de Madrid
memberships & associations
Madrid Bar Association
Spanish Association of Maritime Law
Alfredo es Socio del departamento de Financiación de Activos.
Alfredo se dedica al sector de Transporte, especializado en la financiación de buques, aeronaves y material rodante ferroviario. Asesora tanto a entidades financieras nacionales como internacionales, arrendadores, armadores y aerolíneas en toda clase de financiaciones, con componente fiscal incluido (Tax Leases, Leasing Operativo) y financiación a la exportación. También asesora a arrendadores de aeronaves y helicópteros en varios tipos de estructuras en las que están involucrados arrendatarios españoles.
Tiene amplia experiencia en financiación de terminales portuarios, embargo de buques, derecho administrativo, reposesión de aeronaves y arbitraje ligado a disputas bajo contratos de construcción.
Tanto Chambers Europe como Legal 500 reconocen a Alfredo como un experto en financiación de activos en el sector de Transporte. En 2019, Chambers le describe como un "abogado excepcional en el sector marítimo" con "un inmenso conocimiento del sector y la capacidad de explicar concepto complicados".
Show related areas
Asesoramiento a Havila Kystruten sobre su estructura de arrendamiento fiscal en España y el litigio contra un astillero español sobre la cancelación de un contrato de construcción naval.
Asesoramiento a un arrendador estadounidense sobre su potencial adquisición de aviones de carga para ser operados por una aerolínea española.
Asesoramiento a un sindicato de bancos españoles y extranjeros en la financiación de una terminal portuaria en Brasil con el respaldo de la ECA.
Asesoramiento a un banco español en 2 préstamos soberanos respaldados por la ECA en África.
Asesoramiento a un fondo español en una estructura de capital innovadora en relación con 2 nuevos aviones Airbus para una compañía aérea de bandera europea.
Educación
1999 · DESS Derecho de Comercio Internacional – Université Paris X
1997 – 1999 · Máster en Derecho Europeo – Universidad Carlos III
1996 · Licenciatura en Derecho – Universidad Complutense de Madrid
Membresía y Asociaciones
Colegio de Abogados de Madrid
Asociación Española de Derecho Marítimo