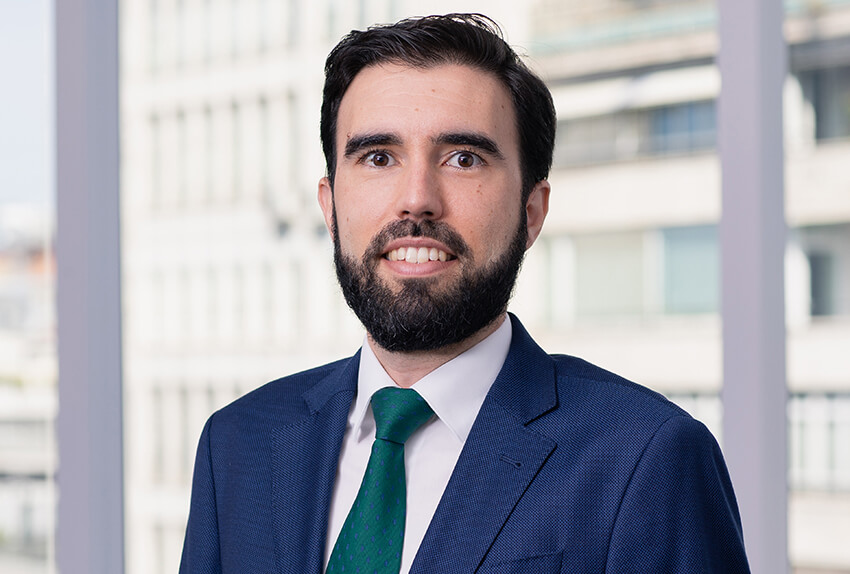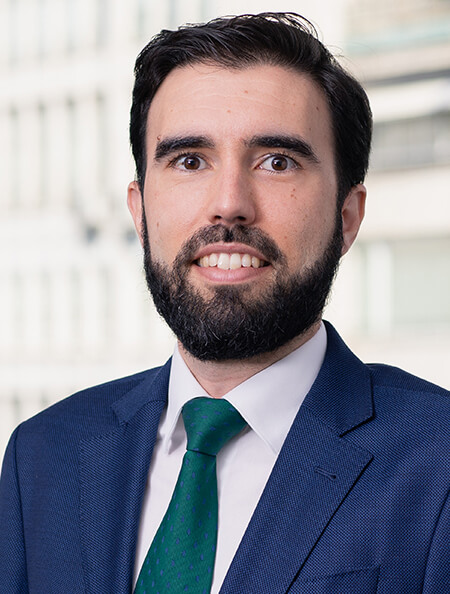 Javier Ruffin
Senior Associate Madrid
Javier is a Senior Associate in the Corporate group.
He advises on all types of corporate/M&A transactions and projects, both at global and local levels.
Javier has extensive experience in bidding processes, project contracts – EPCs, O&Ms, PPAs, etc.- and joint ventures – shareholders agreements, consortium agreements, etc.-, as well as corporate day-to-day matters.
He is mainly involved in the renewable energy sector -photovoltaic, wind, thermosolar, biomass and biodiesel- in all the stages of the projects – early development, RTB/construction and operation phases-.
Javier also advises on oil and gas sector, particularly in Latin America, mining and commodities, as well as infrastructure -railways, ports, airports, electricity transmission networks, etc.
Show related areas
Advising Ventient on the acquisition of 443 MW Spanish wind and photovoltaic portfolio.
Advising BayWa r.e. on 10-year VPPA with Huhtamaki.
Advising Copenhagen Infrastructure Partners ("CIP") on the divestment of a 49% stake in the 487 MW Monegros Spanish onshore wind portfolio to a fund managed by Arjun Infrastructure Partners.
Advising Renewable Power Capital on the formation of a joint venture with Benbros Solar S.L. to develop energy projects with an envisaged capacity of 3.4 GW located in southern Spain.
Advising Cerberus on the sale of Renovalia Energy to Italian fund F2i.
Education
2012 · LL.M. Companies Law (MAJ) – Instituto de Empresa (IE)
2010 · Law Degree – Universidad de Murcia
Memberships and Associations
Madrid Bar Association
Javier es Asociado Sénior del departamento de Derecho Mercantil en Madrid con amplia experiencia en energía e infraestructuras.
Con amplia experiencia en energía e infraestructuras, asesora en todo tipo de operaciones mercantiles y proyectos tanto a nivel nacional como internacional.
Javier tiene una extensa experiencia en particular, en procesos de compraventa, contratos de proyecto – EPCs, O&Ms, PPAs, etc.- y joint Ventures – pactos de socios, acuerdos de consorcio, etc., así como en todo tipo de asesoramiento recurrente en el ámbito mercantil.
Está principalmente involucrado en el sector de las energías renovables – fotovoltaica, eólica, termosolar, biomasa y biodiesel- en todas las fases de los proyectos (desarrollo inicial, fase de construcción y fase de operación).
Javier también asesora en operación del sector petróleo y gas, en particular, en América Latina, minería, así como infraestructuras – ferrocarriles, puertos, redes de transporte de electricidad, etc.-.
Show related areas
Asesoramiento a Ventient en la adquisición de una cartera eólica y fotovoltaica española de 443 MW.
Asesoramiento a BayWa r.e. en un VPPA de 10 años con Huhtamaki.
Asesoramiento a Copenhagen Infrastructure Partners ("CIP") en la desinversión de una participación del 49% en la cartera eólica terrestre española de 487 MW de Monegros a un fondo gestionado por Arjun Infrastructure Partners.
Asesoramiento a Renewable Power Capital en la creación de una empresa conjunta con Benbros Solar S.L. para desarrollar proyectos energéticos con una capacidad prevista de 3,4 GW situados en el sur de España.
Asesoramiento a Cerberus en la venta de Renovalia Energy al fondo italiano F2i.
Education
2012 · LL.M. Asesoría Jurídica de Empresas (MAJ) – Instituto de Empresa (IE)
2010 · Licenciatura en Derecho – Universidad de Murcia
Membresía y Asociaciones
Colegio de Abogados de Madrid