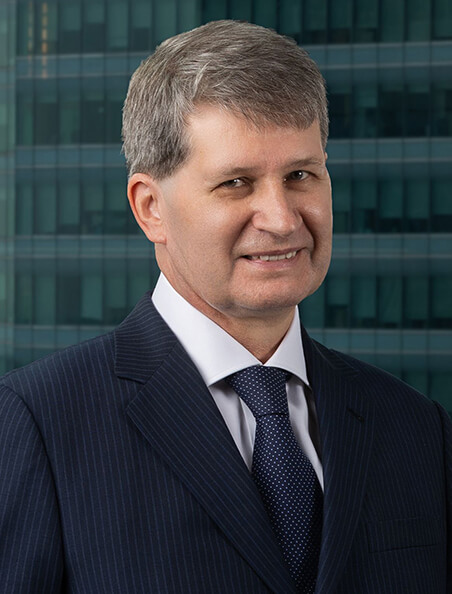 Guy is a Consultant in the firm's Dispute Resolution Group.
Guy is a seasoned commercial dispute resolution and arbitration expert who has a wide variety of practice.
Guy is dual qualified in England and Wales and Hong Kong and has been practising for more than forty years in total in London, Singapore and Hong Kong for a number of prominent clients from various sectors, such as life sciences and telecoms. He has also represented clients in logistics, energy, shipping and insurance on a wide variety of contractual, dispute and regulatory matters.
Show related areas
Representing ANZ in proceedings in Hong Kong, Macau, BVI, Cayman and California to obtain Norwich Pharmacal or third party discovery orders for disclosure of business records from various banks and counterparties in connection with an elaborate fraud involving 83 forged warehouse receipts purportedly issued by Access World covering 30,000 MTs of nickel for which ANZ had advanced finance of US$300m to ED&F Man; subsequently commencing civil fraud proceedings in Hong Kong against recipients of monies advanced by ANZ and obtaining judgment for US$293.6m after some 50 Court applications and judgments over 5 years.
Representing CLP Power in Hong Kong in respect of an explosion of a hydrogen tank at its coal power station causing 2 fatalities and extensive damage at a Government inquiry then subsequently at a 20 day inquest and a further re-opened inquest then in respect of on appeal by the Coroner against the successful challenge to his verdict; obtaining an injunction to prevent personal injury proceedings being continued in Texas by the personal representatives of the deceased and settling the fatal accident claims.
Representing Ericsson AB in connection with a claim against its business interruption insurers in the London market arising out of a small fire on March 18, 2000 at Phillips Semiconductors in Albuquerque, N.M. which led to the interruption of microchip production intended for wireless mobile phones of the Swedish company Ericsson. Phillips was Ericsson's sole supplier of the microchip at the time of the loss. Ericsson filed a claim with underwriters for the equivalent of US$400m following extensive enquiries of its potential losses in production and global sales and which was settled for US$200m. It was at the time the largest contingent business interruption claim settled by the London market and led to insurers focusing on sole source supply chain sites and major producers such as pharma and automobile companies looking at supply chain bottlenecks and dual sourcing wherever possible.
Representing an electricity company in a UNCITRAL arbitration against gas suppliers, the owners of an offshore gas field, for supply of off specification gas under a long term gas supply contract; advising on strategy including the nomination of and rejection of maximum daily quantities of gas whilst off specification and subsequently recovering substantial damages for failure to supply nominated gas after a hearing of 20 days and an initial interim award.
Representing European manufacturers in a SIAC arbitration concerning the assignment and subsequent termination of a distribution agreement for eye products made with an Indonesian distributor who held the marketing authorisations for such products in Indonesia, refused to return them and to recognise the valid assignment from European manufacturers. Obtaining an award after extensive expert evidence on means of transfer including cessie under Article 613 of the Indonesian Civil Code (with Dutch and French law experts on the equivalent provisions in the Dutch Civil Code and Code Napoleon) and enforcing in Indonesia.
Education
1983 · Master of Arts, Selwyn College, Cambridge
1979 · Bachelor of Arts in Law, Selwyn College, Cambridge
1975 · Open Choral Exhibition, Selwyn College, Cambridge