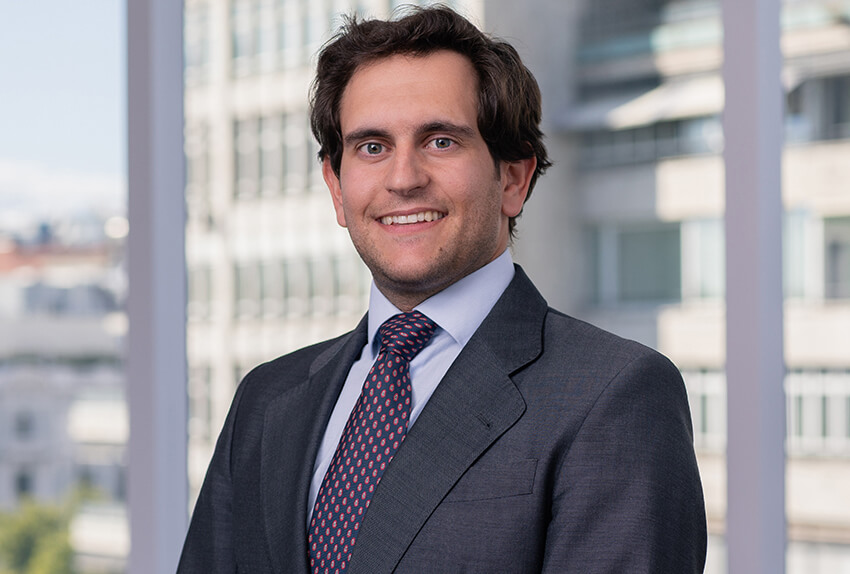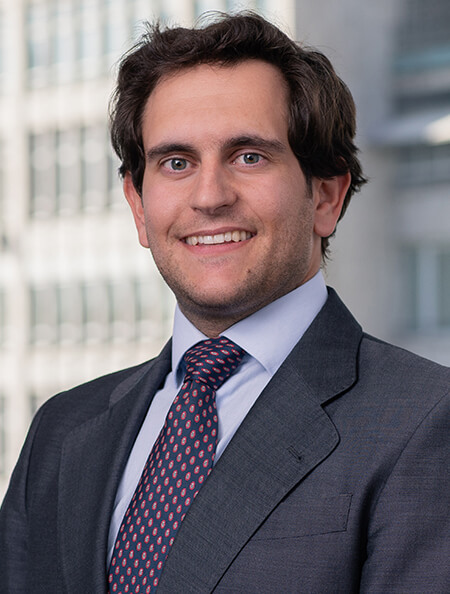 Beltrán Silva
Associate Madrid
Beltrán is an Associate in the Finance group in Madrid.
His main area of expertise consists of advising on project finance transactions with a particular emphasis on energy and infrastructure projects.
He is mainly advising banks and private developers on project and structured financings, including debt issuance transactions and corporate finance transactions.
Show related areas
Advising Northleaf Capital Partners on the project financing of a 5000MW PV plant, the major PV plant in Europe, beneficiary of the Auction Regime.
Advising Banco Santander on the bond issue by Eliantus Energy for the refinancing of 10 Spanish photovoltaic plants, subject to English law and listed on the Frankfurt Stock Exchange's Quotation Board.
Advising the financial entities on the financing of the 50MW Curtis-Teixeiro biomass plant, in Galicia, promoted by Greenalia, one of the first biomass project following the auction-based remuneration regime.
Advising the banking syndicate led by Banco Santander on the equity structure optimisation of the thermosolar plants Helioenergy I and II with a total installed capacity of 100MW, in Sevilla, Spain.
Education
2017 · Double Master Access to the Legal Profession and Business Law – Centro de Estudios Garrigues
2016 · Bachelor Degree in Law and Diploma in Business Law – Universidad Pontificia de Comillas (ICADE)
Memberships and Associations
Madrid Bar Association
Beltrán es Asociado del departamento de Derecho Bancario y Financiero en Madrid.
Su principal área de experiencia es el asesoramiento en la financiación de proyectos de energías renovables e infraestructuras.
Beltrán participa en operaciones de financiación a empresas y restructuración financiera, así como en operaciones de financiación estructurada incluyendo emisiones de deuda y financiación corporativa.
Show related areas
Asesoramiento a Northleaf Capital Partners en la financiación de la mayor planta fotovoltaica en Europa, con una potencia de 500MW, otorgada en subasta de energía renovable.
Asesoramiento a Banco Santander en la emisión de bonos de Eliantus Energy, admitidos en el Quotation Board de la Bolsa de Fráncfort, bajo ley Inglesa, para refinanciar diez plantas fotovoltaicas españolas.
Asesoramiento a las entidades financieras en la financiación de la planta de biomasa de 50MW Curtis-Teixeiro, en A Coruña, promovida por Greenalia, una de las primeras tras la subasta de energía renovable.
Asesoramiento a las entidades financieras en la optimización de la estructura de capital de las plantas termosolares Helioenergy Electricidad Uno y Helioenergy Electricidad Dos, de potencia total instalada de 100MW, en Sevilla.
Educación
2017 · Doble Máster en Acceso a la abogacía y Práctica Jurídica, especialidad Empresarial – Centro de Estudios Garrigues
2016 · Grado en Derecho y Diploma en Derecho de los Negocios – Universidad Pontificia de Comillas (ICADE)
Membresía y Asociaciones
Colegio de Abogados de Madrid