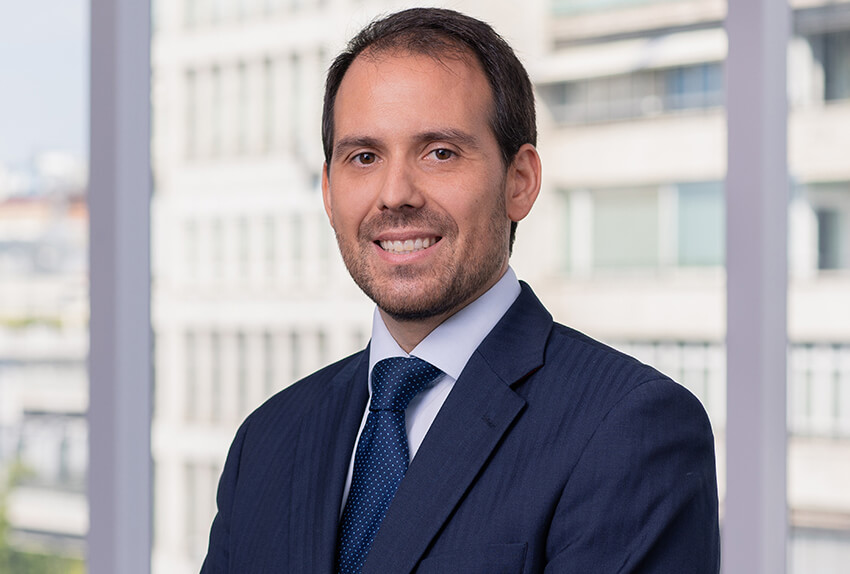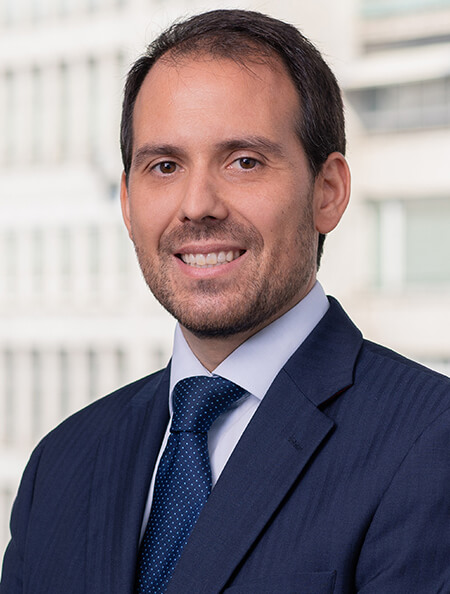 Antonio Cáneva Lobato
Senior Associate Madrid
Antonio is a Senior Associate in the Project & Structured Finance Group.
He regularly advises lenders and sponsors on all types of energy sector financing transactions (project finance, refinancing and acquisition financing), including both bank financing and bond issues.
Antonio also specialises in corporate finance transactions, leveraged finance and restructuring of distressed companies with deep experience in pre-insolvency scenarios.
Additionally, he has experience in securitizations and transfer of non-performing loan portfolios.
Show related areas
Advising the banks on the €434m project financing of a Spanish 864 MW PV portfolio developed by Grupo Cobra, the major Spanish financing and one of the most important worldwide.
Advising Compañía Española de Financiación del Desarrollo (COFIDES) on the financing of two projects sponsored by SACYR, a water treatment facility in Australia and a desalination plant in Oman.
Advising Banco Sabadell on the project financing of the 79.2 MW Puertollano PV project, comprising five merchant photovoltaic plants being built and developed by Renovalia Energy in Ciudad Real, Spain.
Advising H.I.G. WhiteHorse on the debt refinancing of the Grupo Hospitalario Recoletas, leading Spanish healthcare group.
Advising Banco Santander on the financing of the partial acquisition from Solarpack Corporación Tecnológica of two PV plants in Peru, with a 44.9 MW combined capacity.
Education
2012 · Master Executive in Corporate Finance – Centro de Estudios Garrigues
2008 – 2010 · Master in Corporate Law – Centro de Estudios Garrigues
2002 – 2008 · Law and Business degree – Universidad de Valladolid
Memberships and associations
Madrid Bar Association
Antonio es Asociado Sénior del departamento de Derecho Project & Structured Finance.
Asesora regularmente a prestamistas y sponsors en todo tipo de operaciones de financiación del sector de la energía -financiación de proyectos, refinanciaciones y financiación de adquisición-, incluyendo tanto financiaciones puramente bancarias como emisiones de bonos.
Asimismo, Antonio está especializado en transacciones de financiación corporativa, financiación apalancada y reestructuraciones de empresas en crisis, con particular experiencia en situaciones pre-concursales.
Tiene además experiencia en titulizaciones y cesión de carteras de créditos non-performing.
Show related areas
Asesoramiento a los bancos en la financiación por €434m de un porfolio fotovoltaico de 864 MW, desarrollado por Cobra, financiación más importante de España y de las mayores del mundo.
Asesoramiento a COFIDES en la financiación de dos proyectos desarrollados por SACYR, una planta de tratamiento de residuos en Australia y otra de desalinización en Omán.
Asesoramiento a Banco Sabadell en la financiación del portfolio fotovoltaico de 79.2 MW compuesto por cinco plantas merchant en Puertollano, Cuidad Real, construido y explotado por Renovalia Energy.
Asesoramiento a H.I.G. WhiteHorse en la refinanciación de la deuda financiera de Grupo Hospitalario Recoletas, grupo privado de referencia a nivel nacional en la gestión de recursos sanitarios.
Asesoramiento a Banco Santander en la financiación de la adquisición parcial por Solarpack Corporación Tecnológica de dos plantas fotovoltaicas en Perú, con una capacidad total de 44,9 MW.
Educación
2012-2013 Business and Legal English Course, London Meridian College
2011-2012 Máster Executive Corporate Finance – Centro de Estudios Garrigues
2008-2010 Máster Derecho Empresarial – Centro de Estudios Garrigues
2002-2008 Licenciatura en Derecho y Administración y Dirección de Empresas – Universidad de Valladolid
Membresía y Asociaciones
Colegio de Abogados de Madrid